Catering Your Next Coup
By Peter Green, Dipsophilia Correspondent
Tuesday, September 19
So, with the news all over CNN about the troubles in Bangkok, I know you were all wondering how should one dine during a coup? I interrupted my writing on the WGF for a bit to get up to speed on this.
I'd had a very long, and not very good day. Up at 5 a.m. to get out of KL, arrived early to make the most of the day, and then found that the fellow occupying my room and who was to have checked out early was nowhere to be found. After that, after a day of shopping in order to utilize time, I returned to find that my computer appeared to be gone. It would appear I didn't take it out of the taxi when I dragged my weary self home.
The staff were very concerned, and we rechecked the lobby and everywhere, but failed to turn up my dear old Apple. What to do?
I decided on BBQ.
Dana Carron has returned to the restaurant business, and has put up a very attractive little place on the corner of Suriyawongse and Rama IV. Three floors, the topmost of which is a clean looking sports bar, pool tables, darts, big screen TV's.
Dana and I talked a bit about the food. The menu comes on a large solid board, which gives you plenty of time to relax, ponder, and plan as you enjoy a beer or two. Dana's also got a good Honey Bee Pils on tap, as well as a strong beer. He's getting this from the same people who supply the upstairs bar at the airport…Beer House, I think.
That was always a good detour. With Don Muang closing next week and the move to Souvarnabhumi coming up, I don't know if the pre-immigration liver wrapped in bacon and micro-brew operation will still be there. We'll know next week when the move happens, but I'll miss that.
Anyways, I opted on the Philly cheese steak with crab cakes to start. Dana considers both to be respectable options, and he's put a lot of work into the crab cakes to get them the right texture and consistency.
The cheese steak was just what I needed, comforting slices of good beef nestled under a bed of cheese. A bit of Tabasco and you're there. What's a computer or two, after all?
I liked the layout of the ground floor dining room. Spacious. There are way too many places nowadays that try to pack in far too many tables. Here there was plenty of room to move around for the staff and customers. And, beer and a meal under my belt, pool seemed like a good way to focus myself. It was while playing a game that CNN made itself known with details of a coup in Bangkok and tanks on the street. After scratching on the 8, I decided this was a good time to get home to Sukhumvit (okay, the scratch had a lot to do with it).
I got over to Silom, and debated the Sky Train, but it seemed risky if it got cut. I would have cut it if it was me and I wanted to lock things down. Taxis have their own risk, but it's a lot easier to bail out of one and make it on foot if you have to. I made a passive attempt at bargaining, and then figured that wasting time was not a good thing.
My driver was continually talking on his cell. I interrupted at one point to get details, and he told me it appeared that the army had taken over, Khao Sarn was shut, and Pat Pong had just been shut. Oh, yeah, they were also doing things around the government buildings, but we have our priorities in what matters.
Then the chatting ladies on the radio went away ("kaaa….kaaa….") and that familiar old music started playing. I did need to get back to my hotel. But the rest of the trip went well. We dodged a few jams, and made it back. I was, of course, hungry again.
I dropped back down a few blocks on Sukhumvit, my passport secured now on my body, and checked out the street side offerings. There were the usual noodle stands, the broth smelling quite good, fish balls cheerfully waiting for the basket. And there were the usual critter stands – crickets, roaches, red ants – but it was the stewed pork leg that looked best to me. So I ordered a bowl of that, some rice, and a beer Lao (heaven sent to Bangkok only these last few months), and watched and waited.
And nothing happened. Oh, well, I sweated quite a bit, and the meat disappeared somewhere, but generally speaking things were pretty much as normal. Only the lack of police appeared to be a bit odd. There was word that Phetburi was closed down, but not much else.
I returned to the room, grabbed some of the pork jerky I'd bought at MBK, poured myself a glass of Wang Nam Kaew chenin blanc (quite easy to drink, from the Khao Yai area….a little fruity) and called it a (relatively) early night.
Wednesday, September 20
I put aside a copy of the Post. There's nothing like a bold headline of COUP D'Etat to wake you up. But it seemed that things were settling out. No real problems to report, other than nobody was answering when Thaksin phoned Thailand. It had been declared a national holiday, so things would be quiet.
I was luxuriating in not having to wake up at 5 a.m. again. That resulted in a lack of breakfast, so I made up for it with a Beer Lao while I read the paper, aligned my plans with democratic reform, and fretted over what might be the best dining option for this first day of the new regime.
But first, the good news. I had my beloved 12" Mac back. It had been returned by the taxi driver. Now I wish I had offered more than the 1000 baht that I'd hastily put up before going to bed. I forecast clear sailing for the rest of the trip.
I met up with some out of town friends at the MBK shopping mall. MBK has revamped their food floors. They've got a cleaned up version of the standard Thai food court, chits and suchlike with all the great stalls. I really like these, as you know the food will be fresh as the office crowd cleans out just about everything every day. That's on the 6th floor. …. I remember a long time ago being up there and watching Siam Square burning…..but I'm wandering again.
My friends weren't up on the 6th though, they were on the newly opened 5th Avenue on (you guessed it) the 5th. This was an even more modern take on the food court. You get your own individual ATM card, your orders are placed against this, and you pay at the end. Very sleek, very clean, and there's a live band doing Sinatra covers on the stage. I had a bowl of Ayutthya noodles (peanuts, thick rice noodles, and ground pork) and a red pork curry with rice. But they also had Vietnamese, Singaporean, Japanese, Italian, and Indian. And you could get a gin and tonic. And a pretty good version of "Fly Me To The Moon".
I was beginning to enjoy martial law. If things really got political, maybe there'd be some ska or reggae?
My friends were over at Siam City Hotel. This is a good venue for cooking classes, often having something on the go, and C told me they'd be bringing their Morrocan class back in November (where will I be in November?). C's one of the managers there, and she and I yacked about what was going on (or rather not going on). I also had a box of moon cakes from KL to deliver for M, as she was out of town but C could get them to her.
What was happening? Not much. Tanks parked in a few strategic spots, and CNN and BBC were hard to get in some places (but not all). Several of the TV channels were back on. Outings to the Royal Palace had been cancelled, but overall things were quiet. Some bars and restaurants were closed, others weren't.
After a chat and rehydration, it was time to go. There was residual shopping to be done back at the Emporium, and more eating.
Small signs of the situation were apparent on the road back. At Asoke there was a three man armed detachment keeping an eye on things. But no roadblocks or checkpoints like we'd experienced elsewhere in the past like in Nepal or the Middle East.
Across the street from the Emporium and at the corner of the Dead Artists' Street there's a bar called Londoners. Big, spacious, clean, and very well air conditioned. I had a meeting here to collect some things, and to catch up on gossip. Plus, I like their cream bitter. It's a middle of the road brew, designed to antagonize neither the North nor South of England. Of course, you could argue that this was proactively mediocre, but I find it well suited to the climate. It's wet, and it's cold. Me, I'm just wet.
Somehow this quick stop ran into a three hour session, as we met C, visiting from San Francisco, and the talk turned to food there, in Shanghai, and in Tokyo. The conversation was good, we got to catch up on politics, and solved most of the world's problems. My dinner company for that evening called to cancel, however, which was a pity. But this took the pressure off of me to be too presentable, so there was a good side to things.
Coming out of the Londoner, the traffic was so light that vehicles were actually moving at a normal rate. An armoured humvee swept by with the .50 caliber roof mount manned but not tracking anything. A long yellow ribbon fluttered from the driver's window.
Dinner was the next concern. So far we had done American (technically, even if I had finished before news of the change came in) with its overtones of South American and South East Asian interventionism, and I'd had some Thai (this is what? The 18th or 19th coup – but the first in 15 or so years). What would be a good counterpoint in terms of revolutionary sensibilities?
But the French, of course! With a wonderful history of interventionism across most of the world, one that easily surpasses the Americans. Plus they do very good emulsions.
Le Beaulieu is situated on soi 19, in the Sofitel Residences. It's a staged series of rooms, with a very comfortable wine bar consisting primarily of a long wooden table whereat the chef, owner, and a friend were actively engaged in conversation; the reception; and the dining room. There's also a cozy little nook up the winding staircase, but I didn't get to that. I talked for a few moments there with Herve Frerard, the chef, getting his recommendations. He is a sauciere, so he was keenest on the braised veal cheeks. And he felt that he was doing a good job with the fish.
Herve has a great pedigree. Amongst others, he's worked the Grand Vefour in Paris, and with Alain Ducasse. He's been in Bangkok for a couple of years already, and had wanted a restaurant that would be committed to the best of ingredients.
I ordered a glass of the Santagostin Catarrotto/Chardonnay 2004, and decided to start with a lightly pan fried cantaloupe draped with ham and a chilled cantaloupe soup and a ricotta cheese quesnelle. This comes out a comforting warmth that wraps up the coolness of the ham and the chill of the soup. And the quesnelle helps finish off with some richness. The presentation itself is nigh pornographic.
<![if !vml]>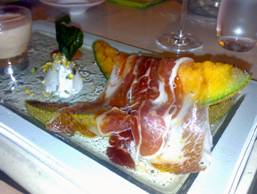 <![endif]>
Before that, though, he brought out an amuse bouche of artichoke soup. The immediate reaction to the broth was that there must be a lobster stock locking it down, but, non, it is all artichoke.
After that a slab of duck liver pate, served with some toast and dabs of balsamic. Herve was also pleased with this, the result of a steaming. A little of that pink fleur de sel and this was working out very well for my sense of well being. I'd switched over to the Mionetto Sergie Prasecco/Chardonnay to have something with a little bubble to lift up the foie gras, but with a dryness to contrast the texture of the terrine.
<![if !vml]>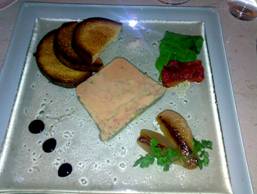 <![endif]>
Herve's position on corkage is that if someone brings in a very good bottle of wine, then he'll be happy to work with the customer. Where he puts his foot down, however, is when someone brings in "crap wine" that is an insult to the rest of the ingredients on the table.
And what of the big wines? Too often they're taken solely on the basis of name and common expectations. A wine doesn't have to cost the bankroll of Tongah in order to work well with the food. Take a good soft goat cheese sometime and try that with a Chardonnay or a Friuli.
Next was the fish. A pan seared Murray cod with celeriac puree and sea urchin emulsion. The contrast in the dish is very pretty, soft. Herve corrects me on the nature of the fish, a fresh water item from New Zealand. The flavour of the fish itself is pulled out from the cooking, and the emulsion of uni draws the flavour around your mouth.
The uni is very good. He's sourcing this from Snacks Plus. And as at the WGF, I like the use of celeriac as a puree to underlie the food.
Next would be the veal cheeks, so I finished the Chardonnay and ordered a glass of the 2003 Chianti. The texture on these was very nice, not having been allowed to go mushy, and the gelatin just there in the mouth.
I admired the black clad ninja staff working the kitchen. The view is wide open, as is the kitchen, and Herve is quite proud of it. It's a beautiful working space, with enough elbow room for everyone to operate comfortably. He's using the newer magnetic induction units, and is finding them quite appropriate for commercial cooking. And he also has a thermomix as did William Leduiel at the WGF. The kitchen designer is using this as his presentation unit, as it's better than anything else that he has at hand for making a convincing sale.
A trio of desserts followed; a very pleasant cream brullee served up in a blood orange, and Valrhona chocolate; some baked mango, and a bit of ice cream.
<![if !vml]>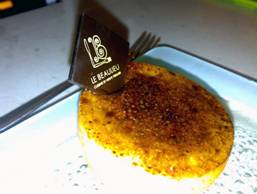 <![endif]>
Coffee with this, and then I retired back to the wine bar to discuss the world's matters over an Armagnac with Herve and a couple of Americans that appeared to be back from squash (the fact that his first offer was an Armagnac has endeared him to me forever. I'll almost always take one over a cognac). A bit of this, a bit of that, and it was time to wrap up…..okay, it was a lot of this, and a lot of that. I think the two Americans came away with a misconception of my role in their countries intelligence operations (none whatsoever). As Steven Segal said "I'm just a cook".
My impression? If I was going to overthrow a government, I would find it hard to go wrong with French Mediterranean cuisine, especially of this quality. His ingredients are very good, and the execution is spot on. Herve may strike some as being a bit, well, glum, but I warmed to him quickly. In Bangkok the price strikes one as high, but once you appreciate that the material being used is of the best quality, you can put those issues aside. Could you get a meal of this quality in London, New York, or Moscow for this price? Hah!
Now I'm waiting to see what his new menu will look like next week.
Thursday, September 21
I found myself, somehow, in the midst of a Thursday. Day two and a bit of operations, and everything seemed to be going swimmingly. Anywhere I looked people were happy, there were pictures of troops being covered in flowers, and the ex-prime minister was going to be taking an English holiday.
This Bastille Day merriment called for more French food. I was off to Le Vendome.
I'm biased, I admit. I've enjoyed Nicolas' food both here and at the Four Seasons, and have never been anything but thrilled with what he's prepared. His lunch menu – at 450 baht - is one of the best dining values to be had anywhere. And the staff are near perfect in their service, not clustering as can happen here in Bangkok, nor being overly attentive, which, while cute, can distract from the food. Nicolas is good for food talk. He's worked in a string of 2 and 3 star restaurants (including Taillevent), and was a private chef to ex-Prime Minister Juppe before coming to Thailand (via Singapore, if I recall correctly).
I stopped by and let him know I was back. This is another kitchen I love to watch, wide open and functional, if a little tight. When it was Luca's we'd commented upon how it gave the chef a vantage from which to observe every spot of the room and manage his timings. The tightness is the only downside, but as Nicholas and his staff don't quite make up my girth, the system works.
And it works well. They smile, they clown a little, and they work diligently. They take up the chef's obsession with detailing in earnest. I love to watch the precision placement of items on the dish. Nicolas recommended some Japanese scallops that he had for the first course. I would follow that with a slow baked sea bass (wild caught from Tasmania) in a lightly spiced blue prawn Bouillon.
I looked at the a la carte menu. My eyes were caught by a ravioli of forest mushrooms, and the roasted pigeon from Bresse with a truffle risotto. And in the back, a degustation menu for 1800 baht, with a selection of langoustines, lobsters, foie gras, herb crusted prawns, and other items.
The scallop was very smooth, creamy to the tongue with bits of truffle in the emulsion. A bit of pork belly hid in the backs under the bubbles of the sauce and the strip of home made potato chip.
Before my main came, Nicolas came by with a beautiful dish of crispy pork belly, nestled atop a moist dollop of lentils. He knows I'm limited on how much pork I can have back home, and felt that I needed this.
<![if !vml]>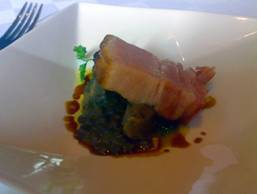 <![endif]>
I did. You can never have enough pork fat. And the lentils take that and swab the sides of your tongue with the thickness of it all.
After this came the fish, pulling apart pleasantly in blades of flesh. The bouillon settled softly against the meat and filled out my mouth, and the bright green French lentils winked at me cheerfully, daring me to crunch into them and offset the softness of the fish.
And after all this, dessert. A nice crème brulee on chocolate sabayon with fresh strawberries. Nicolas and I chatted about forthcoming plans. They'll be moving to soi 31 soon, to a restored house in a garden setting. There'd been earlier plans to move to Rama IV, but those, happily for me, had fallen through. I'm selfish. I find it easier to get to places on Sukhumvit as opposed to Witayu. Once this move is done and he's easier to get to, I fear for the demise of what little hint of a waist I may still have.
By this time I was thinking about where I would find the room for dinner. Maybe a walk? I took this as an excuses to stop in at Verasu just up the street, and see what new gadgets were available for the kitchen - not that my weight allowance would lead to any serious purchasing. Still, maybe a chinois…..?
I spent a little bit of time on my notes, took a swim, and then prepared for dinner. Tonight I was off to the Plaza Athenee.
<![if !vml]>
<![endif]>
"Austr(al)ian Flavours. Two Continents uncorked."
Plaza Athenee's 5th Boutique Wine Event
with Dr. Bertold Salomon, Jorg Woerther, Martin Faist
and the fabulous wines from "fin"
Aperitif
Selection of deluxe canapes
by Martin Faist
2005 Riesling Undhof Kogl QbA, Salomon Undhof, Krems, Austria
Menu
Jorg Worther's Fingerfood
2005 Gruner Veltliner Alte Reben QbA, Salomon Undhof, Krems, Austria
Marinated sea crab
with Sydney rock oyster in cucumber jelly and micro basil salad
by Martin Faist
2001 Isolation Ridge Riesling -Art Label-, Frankland Estate, Western Australia
2005 Riesling Undhof Kogl Reserve QbA, Salomon Undhof, Krems, Austria
Soup of Yabbis with tomatoes
by Jorg Worther
2005 Gruner Veltliner Lindberg Reserve QbA, Salomon Undhof, Krems, Austria
Austrian veal "Tafelspitz"
braised fillet of veal on yellow stuffed capsicum and red pepper cream
by Jurg Worther
2004 Small Hill Red Cuvee Trocken, Leo Hillinger, Burgenland, Austria
"Otzi" Absolut Mandrin Granite
42 degree below
by Martin Faist
Pan seared venison from Austria and Australian "Ranger Valley" beef tenderloin
with marinated beet root, pickled yellow pumpkin and flour egg dumplings
by Martin Faist
2003 Norwood Shiraz Cabernet Merlot, Salomon Estate, South Australia
2003 Finniss River Shiraz, Salomon Estate, South Australia
Glazed apple walnut pancake with sweet sabayon
by Jorg Worther
2005 Gelber Traminer Noble Reserve QbA, Salomon Undhof, Krems, Austria
Assorted Coffee or Tea
Austr(al)ian Apple strudel
with "The spirit of Austria" 80% Stroh rum
by Jurg Worther
I was a little early, so I stopped in for what I knew would be a good pre-dinner refreshment. The Plaza Athenee has a beautiful spot in the form of the Glaz Bar. The glass, light, and the colours coming in from the neighboring restaurant and the street outside all put me in a good mood, and take me back to the Passedat champagne dinner we had back here in March. Reflections such as this, and the fact that I had in front of me my first decent martini in days, had me particularly mellow.
And Reflexions was were I was to be. Upstairs on the third floor, this venue is tucked in beside the hotel's Japanese restaurant. I was escorted through the restaurant proper, and to the function room tucked in up above on the balcony. This was beautifully laid out with one square table for the guests. The seating was for perhaps 24 or 26.
This was very promising. It's hard for a chef to do his best in a banquet setting. Something like this, with a limited number, is much more manageable in the kitchen. The wines for the evening were handled by "Fin". Their managing director Jan Ganser and director Benjawan Wisootsat were on hand as I cleared the table en route for the wines. They'd brought Dr. Salomon from Salomon Underhof, a quiet, polite man with a soft voice and charming manner. He loved his vineyards, and I was looking forward to hearing him talk about them.
In the kitchen was the Plaza's head chef, Martin Faist, a German cooking in the "new French style", and with him was Jorg Woerther from Carpe Diem in Austria, whose Carpe Diem in Salzberg has been called one of the best restaurants in the world by Conde Naste. Their mark has been to work towards luxury fast food (a trend that I'd noticed In Brussels last year as well).
This was excellent. In my thesis I could now evaluate in one fell swoop the underpinnings of culinary political destabilization throughout much of the central Europe, taking in Austria, Germany, and France in one fell swoop. I wasn't certain how the Australians would fit into this, but I was sure if I had enough to drink I would figure something out.
We had a pleasant half hour or so of conversation prior to dinner. This was excellent, as a number of the wine writers from Bangkok had weighed in. Some I knew already from the WGF, and, with a nice, dry, citrusy Undhof Kogl QbA Riesling being perpetually refilled, I was happy to talk with them. And to munch on the canapés. I remember a small ball of foie gras, and a very nice, soft thing of salmon and something white. Okay, it's hard to take notes with a glass in one hand and food in the other.
Part of the talk was of politics of course. Things were becoming better with each hour, it appeared. But another part of our discussion centered upon the abusive excise tax system that so punishes the wine producers and retailers in Thailand. Yes, the Thai have an alcohol problem, with one of the highest consumption rates in the region (and not only when I'm in town), but we somehow doubt that the average rice farmer in Uthai Thani is going to be destroying his life with Burgundies and Languedocs…….there's a good image in there somewhere.
Our first dish was a cute little pair of ice cream cones filled with cucumber and fish and things, and topped off with little bites of fried fish. A little awkward to eat, but reminded me a bit of the French Laundry's signature salmon ice cream cones (I know, there must be a better word, bit if I say ice cream cone, we all know what I mean). The dryness of the Gruner Veltliner (2005) set back against the richness of the filling and the crisp of the cone.
Dr. Bertold Salomon talked a little of his wines, and the history of the vineyards. His family had been wine merchants way back when, shipping wine up the Danube and salt back down between Salzburg and Bavaria, until, in 1780, after the reformation of the church properties, they were able to buy the Undhof, the farm for a disbanded Capuchin monastery.
A while back the farm had passed into the hands of his brother Erich. But Erich's health has been poor, and the children have little interest in the business, so Bertold stepped in to take things over, and to keep this long standing heritage going.
They've concentrated their 20 hectare effort on Riesling and Gruner Veltliner grapes, the Rieslings taking the stonier ground, and the Gruner Veltliners inhabiting the softer loam. They've also rethought their wines, and have put a lot of work into producing drier wines, wines which can be brought to the table early (most of what we were drinking was 2005), or left to develop to greater complexity.
As this talk went on a pretty little plate arrived on the table. There was a dollop of basil jelly, and it's hard to go wrong with basil, the salmon caviar gave an edge of salt, the marinated crab had the soft pully texture I like, and the oyster in the cucumber jelly countered everything else.
With this dish, we compared the two Rieslings. Both were dry and refreshing. A lot of fruit, citrus and good roundness in the palate, no cloying sweetness to speak of. Between the two it was a hard choice. I might actually lean a bit towards the Australian, but the Austrian was beautiful as well, with a nice mineral touch. Both, given a bit of time, opened up very well.
The two Rieslings were then flanked by the other Gruner Veltliner Reserve, making a well ordered line of whites. I'd take the Reserve over the earlier Gruner, with a much more intense flavour. Still, I admired the Rieslings very much.
Around this time a small man in orange underwear came out and pranced about while playing a flute. I believe this was meant to reflect upon Austrian culture.
The yabbis came out, and everyone was wondering what a yabbi was. I was thinking at first that they were those thalidomide children of the langoustines, but those are "bugs". They're an Australian crustacean, little min-lobsters, or perhaps more like a crawfish, sweat and tender like a crawfish. The tomatoes weren't overpowering, and the effect was one of gentle sweetness. The sort of thing you can put in your mouth and go to sleep.
Our wine glasses were getting crowded. They poured the Small Hill Red Cuvee Trocken. I like Austrian and German reds, and they're not commonly found. I've had very nice ones in the past in Berlin and Vienna. This was dry, with a floral nose and a nice finish. A bit of softness to it that would go well with the veal.
But I must say, I found the veal disappointing. There was nothing wrong with it, but I found it lacking in fat. I suspect that this is just my taste. Now, if he'd braised a big piece of pork belly instead……
The next piece was visually stunning. Slabs of ice, one with a bit of advertising for Otzi - a 42 Below product (those cheerful lads from Kiwiland who were promoting at the Nai Lert last year) and a 'happy' message imbedded within, one bracing the shoulder, and the other as a base, with a small glass cup of granite imbedded upon its surface. The granite was very nice, an orange vodka from 42 Below (42 is always the answer) very reminiscent of a gin granite that I've started doing. Oh, lest I forget, Otzi was the famous "ice man" found preserved in the Alps. Given my habits, maybe my body will linger on……
<![if !vml]>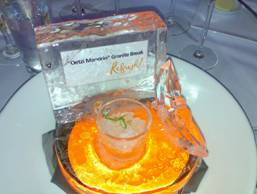 <![endif]>
This did what it should. It cleared away our palates and prepared us for the next round.
The prancing flautist had long since disappeared, and we now had a really neat bit of entertainment. A 5 man Thai group that were working two bongos, an acoustic guitar, and two large didgeridoos. I've always liked that long cicada drone of the didg, and the sound they were coming up with, with the percussion and the light drop of guitar to fill in was really neat.
Our next wine glasses filled, we now had the two Aussies, the Cab Merlot and the Shiraz. I let these open up a bit while I admired the meats.
Salomon had the opportunity a while ago to become involved in an Australian venture. He'd been looking for an opportunity to make some reds, and settled on the Finniss River near Adelaide. The result is quite satisfying, quite rich and with a good nose after a few minutes.
<![if !vml]>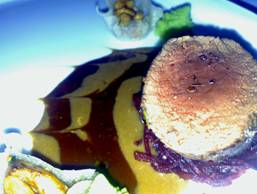 <![endif]>
The tenderloin was a fine thing, the tenderloin resting in an abstract of beet and pumpkin sauce, little bits of finger food, like small dim sum nestling around, while the venison cowered on the other side of the plate. Both pieces were juicy, red in the middle, and yielded up their flesh appreciatively. With these I would say I preferred the Shiraz, and called for another glass to be poured.
The noodles – spatzle really – were served on the side and shared from a lovely little copper pot. Bright green, and soft to masticate. I ladled out spoon after spoon.
<![if !vml]>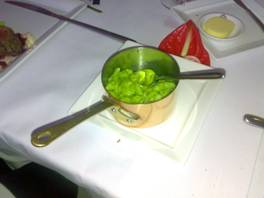 <![endif]>
Dessert was sheer comfort. The glazed apple walnut pancaked acted as a mop for the sabayon, and cleared my plate while chasing down the Traminer Noble. Now, comparing this noble rot with the di Bartolo Noble One I'd had on the plane, I found this not as pushy in its sweetness, a little prim and reserved, and a good match with the dessert which was already over the top for the sucrose challenged.
I had a double espresso to enjoy with the strudel, and had them pour another glass of Shiraz. Where did that last one go?
Jorg Woerther and his beautiful (and eloquent) wife, Ursula, were on hand at the end, and took their bows. Jorg reminds me for all the world of the younger Elvis Costello. Ursula did most of the talking for the two, extending an appreciated welcome for all of us to join them at their restaurant, Carpe Diem, in Salzburg. I hurried up to get Jorg, Bert, and Ursula's signatures. In most cases, I feel that the wife is probably just as responsible for success as the husband.
And then it was time to go. The air conditioning was slowly refridgerating my Thai friends at the table (F beside me was turning blue), and others had a long drive back to Pattaya. Me, I felt it was time to return home and get some sleep. I gave the band my card and asked them to email me with details on their next gigs, and then caught a cab back home to collapse.
Coups take a lot out of you.
Friday, September 22, 2006 (day 4)
Peace was breaking out everywhere! By all accounts the city was overcome with general happiness and content! Thaksin was staying with Mohammad Al-Fayed, downing pints of bitter, and betting on Manchester U. The soldiers were reminded to keep on smiling, as if you need to remind a Thai to smile. This called for lunch. Obviously, when it comes to political intrigue, the Chinese are masters of the craft. If I was Sun Tzu, what would I eat for lunch? The obvious answer was Hainanese chicken rice!
I had a busy day planned out, of checking on my banks, getting a trading account squared away (coups always make for good opportunities), and meeting with different people. One of these people was my friend, Khun Pom, who has a shop in Silom Shopping Village specializing in Buddhist material (Baan Thana Art – shameless plug). She'd been at Sukhumvit Square before it was razed to the ground in one dark, unpleasant night, but was getting back on her feet now. More important, she had a car, so she could get me around to where I needed to go.
And one of the places I needed to get to was the coffee shop of the Montien Hotel. For the last few years, when I ask around at the dinner tables at the World Gourmet Fest about special things to eat, the Thai and Chinese at the table invariably say "Hainanese chicken rice at the Montien coffee shop". This is a usually a very devisive topic, so when I see such a level of unanimity, I'm amazed.
And it's not just limited to Bangkok proper. There's a rivalry with Singapore over who does the best HCR (I'm giving up on writing it out every time). One of my contacts down South does hold that Bangkok may do it better. Strangely enough, no one talks about HCR in Hainan. It's sort of like trying to find Mongolian hot pot in Mongolia……mutton yes, hot pot no. Anyways, we made it there (despite the fact that Khun Pom takes her hands off the steering wheel every few minutes to wai the shrines we pass), parked the car, and made it in.
I'd tried twice before to get here for HCR. Once, after a long, wonderful Peruvian meal by Blondet last year, when we'd all decided we needed to pile into a car and have HCR, and another time when I came in on my own one evening earlier in the year. Both times the HCR was finished. But, one of my other friends in Bangkok is one of the Managers at the Montien. From here I'd learned the magic times; 11:00 a.m. and 8:00 p.m. At 11:00 a.m. it comes out fresh, and at 8:00 p.m. they redo the rice. I was free for lunch, and the timing worked.
Mind you, I recall when the HCR wasn't there that I'd consoled myself quite happily with a dish of minced beef and olives, a very seductive flavour combination.
Back to HCR, the dish itself is simplicity. Chicken, cooked and cut through ready to be doled out, resting on a bed of cucumbers and tomato. Three different dipping sauces. And the rice. I took a piece of fowl with my chopsticks, dipped it in the dark thick sauce reminiscent of Beijing Duck, and put it in my mouth with a load of rice. A bowl of soup, and a bit of ice tea (repress your shock!) and then another mouthful.
I'd made the mistake of ordering a plate of fried mussel pancake, just because I couldn't help myself, but the HCR was so filling that I could barely savage the mussels. My verdict? I would have to eat a lot more HCR in a lot more places to make a final decision as to which is the best. In the meantime, think of how many other things I could be eating?
Lunch done, I thanked Khun Pom for her help (and if you've tried to find offices in Bangkok, you'll understand that that is a lot of help) and then I took care of some more of my errands. During the afternoon, I called up one of my friends working in Nakhon Nowhere. She advised me that the lockdown on her had been lifted somewhat. Her government did not approve of the direction in democracy Thailand had taken, but now were relaxed enough to allow her to travel anywhere except Chiang Mai and Bangkok. I told her about my meals, she called me a sadist, and we parted on happy terms.
Back home there was time to shower, change, shower again, and try putting on new dry clothes. Then it was down to the BTS (skytrain), change onto the MRT (underground), and head for Hua Lamphong to meet more of my friends. We were going to Chinatown.
The old part of town has a reputation for some of the best food to be had in town. It also has a reputation that you'll never be able to find anything. My old friend A has worked the food side of Bangkok for over ten years now, and I trust him to get me to the best places. After fifteen minutes we were kinda lost. "He says he knows where it is…it's around here somewhere," opined J. "That looks like a good place over there, " said C. "Is that the one we're looking for?" "No, but it looks good." "Hey, I recognize that khao man gai place!"
And then, in a moment, we were there: Chotechitr.
<![if !vml]>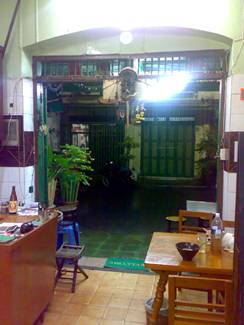 <![endif]>
It's a nice little one shopfront place, with about five tables and three old ladies looking after the cooking and ordering. Thinks looked packed, so A headed across the street to get some beers for us to drink while we waited.
By the time he was back, though, we had a table. We had the one in the back which is usually where the two dogs sit. We grabbed our stoops, looked at the pages and pages of specials on the wall, looked at the waitress, and she went to get the English menus. We ordered a few dishes to start, and then checked out the décor. The usual posters, shrines, and such, but also a number of reviews that Bob Halliday - the legend of Bangkok food writing – had done on this place. If there's a New York Times restaurant review equivalent in Bangkok, it's Bob Halliday. Unfortunately, he's getting older now, but his recommendations are magic.
We started off with the mee krob, well recommended here for using the proper limes. Crispy, broken into bites sized bits. J and I debated the origins of Klingon, and we both felt strongly that mee krob could be one of the antecedents. With this we had a very nice banana blossom, with a rich sauce with just a bit of piquancy to set it off. And then they brought out the fish with three flavours, a crisply fried fish with three thick savoury sauces over top. We scandalized the table by "turning over the boat", flipping the fish to get at the meat rather than despining it ala Predator II. It wasn't that we were worried about bad luck, but just that it looked ugly.
There was some debate over the actual type of fish. We put it down to that "Thai fish you always find". It was quite good, the fish firm, and the skin that lovely crisp the Thai's do well.
We also had some shrimp cakes, breaded and deep fried, that held a very nice texture, and some aubergine with a "very smoky flavour", says J.
We'd finished our byo-cans a while back, so we worked our wiles on the waitresses and had them bring us some large Heinekens. These came out with the most interesting collars of ice. The only down side on this is that the three ladies do everything in the place; they wait, they cook, they clean, they bus. So you have to be a little patient.
<![if !vml]>
<![endif]>
Meanwhile, the dogs were relatively p'd off that we were occupying their table. They were somewhat mollified when one of the ladies took one away to do his nails. At this point, we needed a yaa dong break to clear the table. Yaa dong. How does one describe it? Cough syrup? It's a spirit, definitely. The waitress asked us what we wanted to have with it as a mixed, but we were way too slow, so we just took it in shots.
<![if !vml]>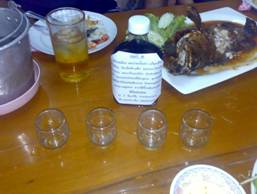 <![endif]>
As a digestif it's not bad. And I haven't had sinus problems for awhile since. I'd probably put it ahead of Minh Mang tonic (another story for another day), and it was no problem the four of us killing the mickey in a matter of two shots each. We wondered hopefully if it had much codeine in it. Our youth reinvigorated, we ordered more food.
<![if !vml]>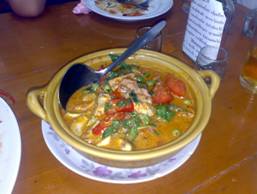 <![endif]>
We ordered a duck curry (red), because we felt we'd be heathens not to have a curry; had a dish of raw prawns lightly ceviched in the Thai way with nam pla, chilis, and squeezed lime (a dish I've loved for decades), and a fabulous dish of what they called crispy Thai bacon, but what was really pig belly fried up and served with fresh green beans in a lovely gravy.
Of the dishes, only the duck curry failed to excite. The banana blossom was really nice, reminiscent of what Justin Quek had done at the WGS in Singapore, but much earthier.
<![if !vml]>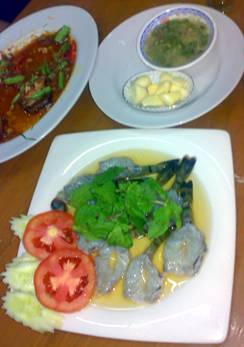 <![endif]>
And the gung (prawns) were just right, a burn of pain on the tip of your tongue. The mee krob crunched appropriately, with a little back tang, and the fish was ugly but tasty (whereas I'm ugly and tasteless). And the pork…..you have to imagine Homer Simpson with drool running out of the edge of his mouth to properly appreciate the feeling that good pork belly can inspire.
We'd managed, by this point, to do serious damage to their beer stocks. We should have left, but it was pouring down, in the first serious rainfall I'd seen in a couple of weeks. We held our ground for another couple of beers, and then set off down the street to grab a cab. This necessitated our passing several other restaurants, all of which looked like they'd be good fun, too. Where do you draw the line? But, we figured that was enough for one night. We headed back uptown to Sukhumvit, grabbed a good window seat with a view, and wiled the night away with beers and gossip. The city was calm, we'd seen little to no sign of the military, and everyone was smiles. What more can you ask from life?
("Perhaps a waist?" whispers my darling)
Saturday, September 23 (Day 5)
I hate leaving Bangkok.
The papers had the latest decrees from the Council for Democratic Reform under constitutional Monarch (CDRM), and I noted that a number of ministers had been "invited in" for discussions. Several of these weren't to leave, at least not for awhile. But others were immediately back on the job.
Debate was ongoing in the papers on the ethical elements of the coup. Practicality over democracy. The academics were torn over whether this was a good thing or not, while 80% of the country was beaming with happiness (according to the polls, if you trust them). They did find two motorcycle taxi drivers who were unhappy, so at least they were unbiased…….
So, for a final meal, amidst my frantic grocery shopping (try finding a fresh baby eggplant where I live….and good mushrooms? Forget it!), I had to figure out how to end this edible thesis. We'd covered the French, the Americans, the Chinese, the Thai. I didn't feel like Spanish. Who else would fit the bill? The answer was staring me in the face as I came out of Villa. Korean BBQ and Tofu.
Okay, it's a chain, but I'm as partial to Korean food as I am to Thai food (and French and Italian and Szechuan…..). And when it comes to a good coup, who better than the "Irish of Asia" (I never quite figured that one out).
I took a seat, a menu, and ordered a Sapporo. Unfortunately, Korean beer isn't to be found yet in Thailand. Soju they have, but I had to catch a plane, and soju can have detrimental effects upon your reasoning elements. The fist item on the menu grabbed me and wouldn't let me go: gul soon tubu – oyster tofu hot pot.
First came the ban chan: a mackeral, fried. Two types of kim chi, some kung namul (big bean sprouts), and some deep fried zucchini, and, of course, a couple of oigi (cucumber pickles – brined but no dill).
<![if !vml]>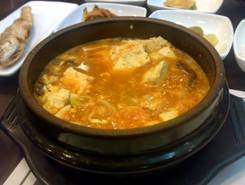 <![endif]>
And then came the soon tubu. Man, it was good. All thick and bubbling, with pools of chili and oil coming to the surface. Meanwhile they served the rice out of the bowl, and then poured water back in to sizzle and boil and lift up the crisp bits of rice to form a soup – soong nyoong – to drink like tea after the meal.
<![if !vml]>

<![endif]>
I lingered over this meal. A bit of tubu, some rice, a bit of ban chan. I felt quite civilized. Behind me, a group of young Korean teenagers – male – were enjoying their meal with some Thai students. Note that Korean men are considered the big heartthrobs of modern Asia (my Korean female friends that I grew up with in Vancouver roar hilariously at this news). The staff (two) were excellent, pouring properly with two hands and showing the proper level of deference. I did my best to finish, thanked the staff, and took care of the horrid business of packing. Luckily, I had rolled up a light dive bag in my suitcase. Reading the news, Mrs. Shinawatra is back in town with two of the kids, "looking after the assets".
Sadly, I checked out and made for Don Muang. This was to be my last transit through the old lady. The new airport, Suvarnabumi, would open in just a few more days on the 28th. I'll miss coming in here, watching the golfers out on the links while we pull in. The MBK atmosphere of the main hall…..
Pulling up, I could see tables and chairs being loaded into trucks. Trolleys were at a premium. But people were still happy. I checked my bags in with Gulf Air (with nary a mention of my 42 kg load) and went back up to the Brew Haus for a final beer. I chose a Honey Bee, like I'd had at Road House. I'd miss this place. Many was the time that I would be too early at the airport and so would kill my time up here waiting for Gulf Air to open, or else I would finish check-in early and then come up here to relax before customs and immigration. My favourite dish was always the pork liver wrapped in bacon. It seemed the right way to put myself in a mellow mood to go back home.
And so, the crisis was over. Enough different cuisines had been tried that I felt disaster was averted. My work here was done.
Fin
Back to EVENTS