SAKE REVIEWS Back to Booze Reviews
For the Sake of the World Cup (Peter, Asian Correspondent, December 2009)
<![if !vml]>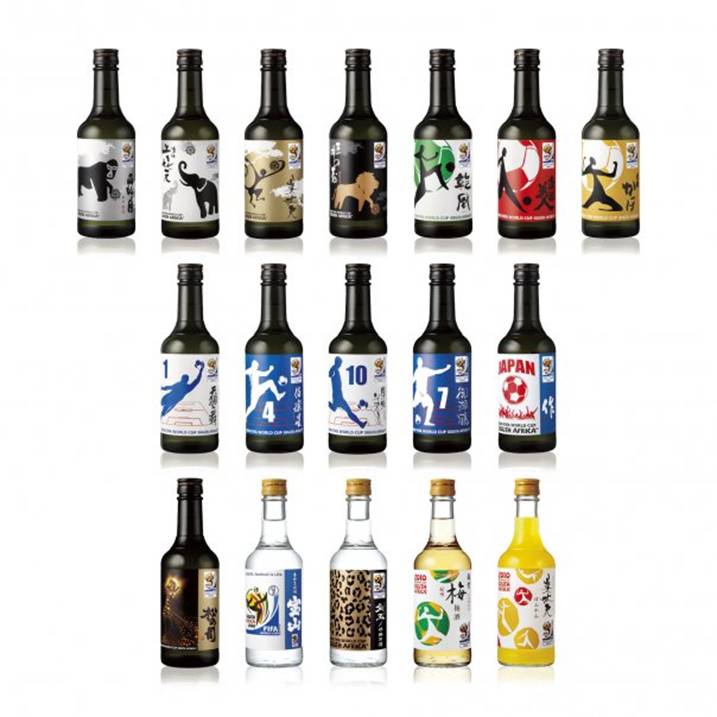 <![endif]>
http://photos-h.ak.fbcdn.net/hphotos-ak-snc1/hs158.snc1/5892_1177092318409_1561151182_452119_1243892_n.jpg
(Photo courtesy of the Kitagawas, Fushimi)
It's almost 2010, and with it, the World Cup (to be hosted in South Africa).
And when you think about football, you should be thinking about a nice cup of sake, right?
With that in mind, Koichi Hasegawa, one of the leading sake gurus, would like for those young (and young at heart) to have some sake to enjoy while they're talking about football.
Good sake.
I'd just heard about this a little while ago from the Kitagawa family in Kyoto (who were kind enough to show me about their brewery in Fushimi). Hasegawasaketen (Hasugawa's business) has chosen 17 premium items to represent Japan in a world wide marketing push.
Hasegawa has a good background for this. His father started their business back in 1960, with Koichi working in the family firm. But, in the 1970's, when Hasegawa was in his mid-20's, he had an epiphany. He was in an izakaya, and someone suggested that he try some of the ginjo-shu they had. "It was a real eye-opener. I never thought sake could taste so good!" It reads a lot like one of several episodes from Oishinbo.
(Oishinbo is a Japanese comic centred on the world of food and drink. The plot revolves around a competition between two newspapers to develup the "ultimate menu". It's being released in English now – the latest volume 9 – with the information being grouped by topic, rather than chronologically. I'd heavily recommend the sake volume if you want a good introduction to nihonshu).
Since then, Hasegawa-san - having taken over from his father, - has worked to bring more attention to the small brewers, and get their products into the hands of the public. His three shops (Omotesando-Hills, Azuba-Juban, and Kameido) all have tasting bars, and he's also opened two restaurants to showcase designer sakes (Sakatomo in Roppongi and Nakanaka near the Oshima station).
He also spends a fair amount of his time on the road, traveling from Asia to North America, to Europe to talk about sake and its allure. Do a google, and you'll find him popping up all over.
As I've discussed elsewhere, sake sales have been on the decline, and it's a hard business for the quality brewers to be in. Japanese are turning to low (or zero) malt beers to avoid costs, and drinking shochu and whisky for serious binging. Sake, unfortunately, is getting left behind.
The hope is to reach out with sake, and establish markets for this fine beverage outside of Japan. And so, let's tie it in with footie.
As I'd said, he's chosen 17 sakes to represent Japan. Well, really, it's 13 sakes, 2 shochu, an umeshu, and an orange infusion (the ponkan), but it's the proper spirit. Miho Kitagawa (daughter of Yukihiro and Chisato Kitagawa of the Kitagawahonke in Fushimi) was good enough to send me the list.
"Nanbubijin" (Southern Beauty) from Iwate
"Hakurakusei" (Legend of the Stars) from Miyagi
"Jokigen" (Euphoria) from Yamagata
"Yonetsuru Kappa" (Rice Demon) from Yamagata
(it's a great name, with the watery kappa, a bowl of fluid on its head.)
"Tengumai" (Dancing Demon) from Ishikawa
(Again, another great name. In this case the long nosed mountain demons, the Tengu.)
"Mikotsuru" (Drifting Crane) from Nagano
(this sounds interesting, with the advertising being "fresh sour taste", balanced with an element of sweetness, to produce something considered like "white wine". This is one of Japan Airlines' offerings.)
"Zaku" (The Craft) from Mie
"Anaze" (Kyoto Mistral) from Kyoto
(I'm biased here, as the Kitagawa's of Kitagawa-Honke have been very kind to me in the past. But, putting aside bias, they make a beautiful Fushimi sake.)
"Ugonotsuki" (Mystic Moon) from Hiroshima
"Toyobijin" (Asian Beauty) from Yamaguchi
"Bijofu" (The Gentleman) from Kochi
"Miinokotobuki" (Brillliant Green) from Fukuoka
"Matsunotuskasa" (Pine's Edge) from Shiga
"Shochu"
"Kakutama/Seikoudoku" (Heaven on Earth) from Kagoshima (it's Shochu)
(Kagoshima may (depending upon whom you read) be the wellspring of shochu. This, and the Hozan, below, should be good representatives of the product.)
"Hozan" (Temptation) from Kagoshima
"Umeshu"
"Saika Umeshu" (Celebration Plum Sake) from Wakayama
"Bijofu Ponkan" (The Gentleman Ponkan Orange) from Kochi
(This will be a spirit infused with the small Ponkan oranges of China that have made their way to Japan.)
Marketing is going to be targeting a limited number of locations (at least for now):
The United States
The United Kingdom
Netherland
Germany
Italy
Hong Kong
Taiwan
Singapore
Australia
Dubai
But not in Canada, eh?
Pity (for now).
Note: for the information on Hasugawa-san, I've relied upon a copy of Nipponia that a friend brought me – issue number 44, March 15, 2008