Doing Calgary With Peter Back to Road Trips
Day 1 - Cowtown (May 13, 2006)
I'd had some trepidations in preparing for Calgary. I remember steak, beef, and meat being the dominant items from when I was last there half a decade ago. This could be a concern. When I'm eating on other people's money I want to get the best quality for their money. I feel I owe them that.
I'd arrived under cover of darkness. The flight from London to Vancouver to Calgary placed me at the Fairmont at around 1 a.m., and in no mood to do much of anything except wash and sleep, which is exactly what I did.
I woke the next morning quite cheery. It was 4 a.m. This was to be a problematic week.
(Much) later that morning I lunched at Murrieta's, just around the corner from the hotel. I had the bouillabaisse and a half a dozen oysters from Chef's Creek up at the north of Vancouver Island. They also have a stubby little bottle of Hendrick's gin that I found intriguing, but I suspected it would interfere with my business that afternoon.
The bouillabaisse was tomatoey, and indistinct in the flavours, but with a thick roux that went well with the bread (and the bread was quite nice, pully and well bubbled). The horseradish for the oysters was just there, though, too finely pureed, lacking the hint of texture that would have set off the oysters. Mind you, the critters themselves were excellent, not too large but meaty enough to satisfy.
I had a beer - Grasshopper (Big Rock Brewery - no lime please) - to start, and then a glass of very fruity Dry Creek chenin blanc from the Okanogan that was an admirable fit with the oysters.
The setting for Murrieta's is quite pleasant. Upstairs, with a lot of light coming into the bar (where I ate) on one side, and a large central courtyard dining room amply lit from the sky on the other. Their balcony, overlooking the pedestrian 8th Avenue, made the list of top ten "patios" for Calgary while I was there.
I left Murrieta's feeling reasonably good about things. A respectably cosmopolitan spot, with an able menu and a very good bar. Not that I made it back, but weekends they host the local Swing sessions.
Downtown Calgary has grown up. There are bars and restaurants everywhere, with a wide selection beyond the steakhouses of yesteryear. And, with the weather in the mid to high 20's, the populace was cheerfully enjoying themselves.
It took a bit for me to get used to the populace themselves. I'm accustomed to more of a mix in the street, and Calgary is very pale in complexion in comparison to Vancouver. But what they lack in diversity, they make up for in friendliness, and everyone is so polite I have to pinch myself to make certain I'm not in a Leave It To Beaver fugue state. Strangers would smile at me, and inquire to the state of the day. After London it was quite unnerving.
For dinner, once business was done, I headed for the River Cafe. It had been hyped as the best in town, and my hopes were high. A spittle of rain just began as I neared the café in the middle of the park, having crossed the river by footbridge.
It was crowded when I entered, the rain having cut off the patio use, but my reservation was in order and I was shown to my seat by a window. None of this "oh, we just need a couple of minutes to get things ready would you like a drink at the bar?" stuff, which is refreshing.
The first dish, walnut pyrogies with crème fraiche and watercress was distressingly low in fat, and too dry. It would have been improved with proper sour cream in a block underneath the 'dogies to fill in the fat spectrum. The wine, however, was perfectly acceptable, a Falanghina that helped offset the blandness of the appetizer. The Falanghina was very fruity, filling out the sides of the mouth and the back of the throat.
I thought back to Sarah's on Center Street, years gone by. Named for their dog, it was a walk-in pyrogie shop, with freezers parked on the side so you could grab a bag of them to take home. Or the Ukrainian place in Vancouver (constantly at war with the Enver Houxa bookstar next door – all books in red in honour of that pillar of Albanian communism), with about a quart of sour cream served with the borscht and pyrogies and sausages and saurkraut that would fill up your plate. This is the way pyrogies should be done.
Also, the mark of good pyrogies should be the explosive effect that they have upon you once fluids are added to this internal cache of starch. Somewhat akin to Mr. Creosote in Monty Python's The Meaning Of Life. I was disappointed at the lack of pain he experienced afterwards.
But, I digress.
The café's setting is one of its main draws. Out on Prince's Island Park, away from the hum of traffic, with the river muffling the city noises you can remove yourself from the noise of urban life. The solid wall of new construction on the other side of the river faded away. Many people had talked of the setting (another of the top ten patios out there, but it was raining now) and came in particularly for the sense of tranquility it offered.
The inside was rustic enough, with large wooden floors, large wooden beams, and wrought iron chasings. The service was alright, but it felt that they were shy one or two servers, and were stretched in covering their tables.
The main I'd had great hopes for, but I was sorely disappointed. Five and a half ounces of bison tenderloin medium rare topped with apple horseradish and carried by four asparagus spears resting on a bed of spatzle with a sauce of chanterelles and fiddle heads, with berries worked into the reduction. On their own, the flavours were all good, but the bison was far to chewy, lacking in any solidity, and the rest of the spatzle, mushrooms, and fiddleheads were also soft and dark, providing no floor beneath the meat. The asparagus couldn't carry it on its own. Pity. If there'd been more crunch somewhere in there, or if the bison had had more texture to it. Medium perhaps would have been wiser than their recommendation of medium rare? But what I received was actually closer to rare, with the tendons not wanting to yield to the knife. The South Australian shiraz would've worked well if things had matched to what I'd expected, but as was it was also too dark. Effectively it was a morbidity of a meal, making me think of Night of the Living Dead for some reason.
Dessert was cheese from Janice Beaton's Fine Cheese shop over in Kensington (and she has another shop on 17th SW). The camembert was lovely, and the blue was fantastic, a variant from one of the Roquefort producers. Also, there was a very nice hard cheese with good body and flavour. Only the Spanish failed to impress. While they listed the Manchago as "creamy and dense" I found it just this side of brittle and too sharp in its flavours. Their choice of port was out of stock but the 10 year old Churchill was serviceable alongside of the congealed mammary fluid selection. It's nice to see that unpasteurized dairy products don't garner the probity that they do in the U.S.
Not a success. Pity. It may well be just my misfortune in ordering, as the place does come very well recommended by many. Check out www.river-café.com
Day 2 - A City Redeemed
On Saturday, after an exhausting day of shopping for other people, I headed out for Thai. The King and I on 11th was recommended by the Fairmont staff (after I explained that I wanted Thai, not Chinese-Thai, or Viet-Thai, but Thai). But when I arrived I found them shut. They do evenings, not afternoons. Luckily, Brewsters' next door was open, and so I had the fortunate pleasure of enjoying their Bighorn Bitter as I worked over my notes. 5% by volume, a very creamy head, nice hops, and a colour reminiscent of kidney diseases (no blood, though).
All of their beers come with recommended food pairings. I like this new trend of recommending foods with the beers. The Bighorn Bitter is best with plank salmon, they claim. Being a salmon snob I passed on the fish and ordered the pork crusted pig sirloin, for which they suggest the Bow Valley Brown Ale. They also – sensibly - suggested a sample tray of their beers, something I had plans to return for later in the week.
When the food arrived I was quite pleased. The pork was very tender, the pepper showing the meat to good favour. Bisto quality gravy, too, wonderfully brown and thick. Lots of mashed spuds and grilled vegetables to go with it. Very, very good for pub grub. Not St. John, but still pretty good.
I ordered the brown ale to go alongside the pork. It was alright, but my preference is still with the Bighorn for this dish, relying on the bitterness to highlight the savory nature of the meal.
After that it was the Rig Pig Pale Ale, a name I couldn't turn down. With signs for Husky Oil and other company's dominating the skyline, and the passersby' conversations as often as not about drilling, you can tell this is a petrol town. The Rig Pig was a golden copper in colour, with an old woman's patina of skin for a head, stretched taut like a drum and scaled. Very light bubblousity to record.
As a note, almost all their beers are 5%, with the exception of their Blue Monk Barley wine, which hammers at 9.9% (okay, not as strong as a true Belgian, but in the running).
The Rig Pig was a very clean taste. Perhaps a little too much sweetness lurking there but not something that would put me off.
Not that I'd tasted them, but they also offered a Wild West Wheat Ale, a River City raspberry ale, a Blueberry Wheat ale, a (an?) Hammerhead red ale, Original lager, Flying Frog lager, Lanigan's Irish ale, Shaughnessy stout, and, as I mentioned, the Blue Monk barley wine. Serviceable pool table (though it needs a vacuum), excellent pub grub, and good staff (not hovering, but not letting your plates or empty mugs sit about….and a darned sight friendlier than in London).
Two hours later and I was at Teatro, another recommended high-end spot. This one was good when I was there in 2001, and I was interested in seeing how it had stood the test of time.
It stood quite well, I must say. The room is outstanding, one of many converted bank buildings, with a three story ceiling, suitable impressive columns of some Greek derivation, an expanse of floor, and there, should wonders never cease, in pride of place at the front of the hall, a suckling pig revolving on a spit just in front of the wall blocking the kitchen.
My waiter, David, was very knowledgeable of the food being served, and the sommelier – Mr. Edmund Sutherland-Ives - was excellent at matchmaking wine and food pairings.
I had a major crisis, but David helped me through this. I was torn between the spitted boar dripping its juices and the tasting menu. The gourmet menu with wines? The tasting menu with wines? Or the pig? But the answer proved simple. The hog was a one-off for the evening, but the others would be available throughout the week. I would simply have to come back.
I ordered a dry martini – straight up – with the Hendrick's gin, which they also carried. The result was very crisp, with a slightly different tang. Meanwhile they began with a small taster of salmon tartare on a bit of toast (there's probably a fancier name, but to me, toast is toast). It warmed me to the evening.
This was followed by an amuse bouche, a mayonaise'd mussel in a prettily rounded spoon, bent over upon itself like a Mongolian contortionist ("It's an in-bred skill", said our guide, Toya, when we were in Ulan Baator).
I started with a half dozen oysters, and this time when I asked for horseradish, what came was freshly shredded. Raggedly textured like the wasabi at the Four Seasons in Bangkok. The oysters themselves were served strung out lengthwise on an oval platter allowing me to strafe my way through them. I'd nursed my martini so I could take the oysters with the taste of the gin. Like Murietta's the oysters were fresh, the brine making a lovely afterslurp to the mucusy feel of the shellfish. By this time the martini was dirtying up as we got down to the three olives that had been resting in the bottom.
I followed on with the saffron and licorice risotto (carnoli rice), a wonderful orange colour, with a small bit of tomato confit topping it off, more for colour than anything else. The chicken broth that went into the rice was appropriate to the dish. With this a glass of chianti, a Panzellatto 2003 DOCG, velvety on the palate and bright in its presentation against the buttery feel of the risotto.
Am I sounding enthusiastic?
The next wine was a pinot noir, a Domaine A F Gros Cote d'Or from 2002. A nice nose which I savoured as a stretch Hummer drove past outside, followed by two Lamborghinis and a Ferrari.
Then I had the suckling pig. Rich and flavourful, like the thighs of a strutting turkey as compared to the dryer meat of the breast (turkey that is, not the pig). As good as the pork at lunch was, this was another ballgame altogether. They were draining the drippings back into the kitchen where they were worked into a marvelous gravy. The meat puts up a slight resilience at first, and then yields to the molars as you settle in for mastication.
The sides worked very well. Carrots and asparagus on a very Koreanish dollop of pureed chestnut. Edmund had been concerned that Pinot might be a bit outré for the suckling pig, but it worked very well with the meal. It took me a while to pin it down, but it was the chestnut that was setting off the wine so well, not the meat and gravy. I must remember this for Vancouver in July (or else a future trip to Korea?).
I settled the rest of the wine over a cheese plate. Again, Janice Beaton has the market cornered here (at least in the restaurants I've taken it). A Brie de Meux, one of only two true Bries, and a very good local chevre from Ft. McLeod stood out (I wish I could decipher my notes for the name for this one. I should write prescriptions.)
And then it was a 15 year old Dalwhinie and a view of the world. It was prom night in Calgary, and the street was all fancy suits, stretch limos, and taffeta. Nobody was in the gutter yet, but the night was young at only 8 p.m.
I felt much better about Calgary at this point.
The rest of the evening went on for a bit. I stopped by the Barley Mill at Au Claire, but was unimpressed. An instant antique sums up the bar. Pleasant enough, but still too new to have established its character. I had a Southpark (Kilkenny) and then stumbled along to 8th Ave to try the Belgian place that David had recommended.
Belgo is wonderful. Putting aside the excellent waitstaff in their fishnet stockings, they have a remarkable collection of Belgian beers, with the accoutrements to go with them.
While my waitress is brunette, I still want to start with a blonde. I order the Leffe, and it comes rich and pure, honey to my lips
This was followed by the Orval, and then I wanted to try the wonderfully named La Fin De La Monde from Quebec (they carry La Fin, Blanche de Chemblay, and, of course, the Maudite). I was impressed that these beers had made it all the way to Singapore, but had been too enchanted by the Mo Gwye and the Extra IPA at Brewerkz to pay them enough attention. Now that I was back in Canada it seemed only appropriate to have one or two.
They were out of the Quebecois! That alone is a mark of quality, when a beer can be completely run down. Somewhat like Beer Lao running out during the Water Festival while the Tigers and Heinikens still take up room on the shelves.
I contented myself with Delirium Tremens, the beer that is. Audrey, my waitress, recommended this in particular, and who am I to argue with someone who can spin and drop as well as she can? The beer, rated by someone as the world's best, is a pale golden, with irregular bubbles. The bottle is opaque, with a pink elephant on the lable, and the glass is covered in a tiny pink elephants. I have the trivet about here somewhere. It comes in at 8.9%, modest for a Belgian but over the top for North America – a triple fermentation. You pick up berries in the nose. The real charm is on the palate. It begins with a very crisp presentation, and tehn falls apart like the lattice of a foam, dispersing from the top of the tongue, sending feelers out to the rest of your mouth.
Audrey interrupted my notes at that point to suggest that I take some water.
As I detoxed slightly, I took note of the room. Again, like Teatro, wonderful height. They've done well to work towards a Belgian brasserie feel. A lot of wood, good mirrors, comfortable seating. The only thing out of place is the music and the hockey on the tv, but I can forgive that. Not everyone is interested in Jacques Brel.
The menu is intriguing as well. Looking it over I'm struck by the duck breast, the charcuterie platter, the pork tenderloin in boar bacon, and, of course, the six different types of mussels. I was tempted to light into another meal, but thought better of it.
I queried their philosophy for making frites. I was hoping for horse fat, but would have settled for the traditional beef, but, alas, they use politically correct Canola (they wouldn't even let them keep the original name of rape).
Talking with Audrey, I found that Belgo is part of the Penny Lane group, the very successful venture that has the major part of Calgary nightlife sown up, what with Coyotes, Cowboys, Tantra, Zen 8, the Chicago Chophouse, and, of course, Ceili's. They've also got a spot called Skybar in Vancouver that I might check out if it's open by then. Back in 2001 when I was here they were the main driving force for a revitalization of the downtown scene. That was Ceili's and Cowboys. Looking down 8th street on a warm weekend evening, they've succeeded.
I finish up with a Pauwel Kwack, with it's marvelous bulbous glass hoisted in a wooden cangue. I'm never certain if I should detach the glass from its holder, and hoist it as a mini-yard of beer (a foot?), or quaff while grasping the wood.
And with that, I have a good finish to the night. It's just a matter of making it back to the Palisser.
Day 3 - Sunday, Bloody Sunday
I woke delicately, and late. Jet lag and the night's debauche had left me a shattered shell of a man. At least that's what I kept telling myself. In penance, and to escape the poor chambermaid who needed to reconstitute my room, I took my laundry out and walked over to 17th to find a coin op, being the cheap low-life that I am.
I found a serviceable spot on 18th, and used the time to investigate the neighborhood. Restaurants and bars galore, with an emphasis on coffee houses and Italian eateries of a mid-scale nature. Strolling up 17th I came across the following sign in front of some teen age buskers:
Ninjas killed my family.
Need money for kung fu lessons.
How can you argue with that?
I strolled by one of Janice Beaton's cheese outlets, but, being a Sunday, they were closed. Probably for the best, as I am notorious for stocking up on snacks for the room and then never getting around to eating them.
Clothes done I dropped in at Bottlescrew Bill's, just around the corner from the hotel and under the train tracks. It's expanded a bit, but still has that neighborhood feel. Very quiet, and what clients there are are out on the balcony. They'd just put in wireless, but we couldn't get that up and running just yet. I had an order of dried pork ribs and some fries, and contented myself with a Keith's
That put some life back in me, and I was ready to head out for an early dinner. I met my team mates, who were just straggling into Calgary for our recruiting effort (yes, I do occasionally do some work at my day job), and we caught up on our plans. But before we knew it we were pushing 9 o'clock, and we still hadn't eaten. I do not go on business trips to miss meals, so we rushed out onto the street.
This lack of planning did us little good. In a panic, I allowed my compatriots to choose the restaurant, and we ended up at Saltlik, just around the corner from the Palisser and across the street from the Marriott. Saltlik was alright, but it was very much a place you go for lunch when you're working downtown. Nice décor, good staff, pleasant, dark ambience, but the meat was somewhat tough, which is not what I had expected from Alberta. The wine, however, a Sumac Ridge Hermitage 2003 from the Okanogan, was very nice, and this made up for some of my disappointment. Good tannins, very nice nose, and a pleasant feel on the sides of the tongue.
I shouldn't be too hard on Saltlik. I hadn't gone there with great expectations such as I'd had with the River Café, and the price was reasonable. But with a limited number of meals to be had, I would have preferred to have tried the Chicago Chop House, or else have made it back to Belgo.
Day 4 - A Working Day
We were stuck at the Stampede Grounds for the day, running our booth. For those of you who are tempted to try eating at the Maverick dining lounge next to the casino at the Grounds……don't. Enough said.
For dinner, however, I had plans. And I was not to be drawn into the trap of an executive floor bar like the previous night.
Saint Germain is tucked alongside of the new Hotel Arts on Twelfth (note: it is not technically a part of the hotel, so you need to phone them separately for reservations). Very chic, very cool, and very 1/3 the price of where I'm staying. I know which hotel I'm going to the next time I'm in town. Back to the restaurant, the dining room is a bisected space, with tables towards the windows. Eveything is clean lines against almost metallic looking polished concrete floor; booths (which I choose on the wall backing into the hotel); and a bar, inhabited, when I arrived, by two very foul-mouthed engineers (is that redundant?), which reminded me that, yes, I was in Calgary.
The room is very much a study in browns and sage green. I know, I've disdained before the attempts to sell brown as the new black, but it worked well in here. Chocolates and metallics, rather than the dark woody shades. With crisp white tablecloths it's a good match.
Also, as a reminder of Canada, the booth beside me had a young lady who was very apologetic to the waiter but she was, you see, a vegan, and hadn't realized that a terrine of foie gras would have animal parts in it.
In a knee jerk reaction to the word "vegan" I opened with their steak tartare, and a glass of sparkling, a Crement d'Alsace Lucia Albred, with wonderful fine bubbles for an edgewise fizz. The steak tartare (made from tenderloin from Hoven Farms) was very good, but I would still give pride of place to Le Bouchons off of Patpong in Bangkok. Perhaps a bit more egg, and a splash more of cognac (or, better, an armagnac). The potato fingerlings, looking like browned snow peas, were just a tad too soft for my taste, not giving enough contrast with the raw flesh, but I'm too much of a stickler. It was very good, overall.
I bugged the waiter about the chef. He's Paul McGreevy, hailing from Edmonton. He'd been one of the chefs at Teatro earlier, and had also worked at the well-recommended Il Sogno (which I did not have time to try), so his pedigree is well established.
Choosing the main gave me almost as much agony as my feet, abused from standing in a booth all day. They had a pheasant 'sous vide' and confit that sounded really, really good, and also advertised a rack of Alberta suckling pig. But I'd felt bad about my blackguarding of buffalo earlier, and decided to give it another try.
As I waited upon my food, the boys from Red Deer at the bar were joined by a trio of very sleek looking Euros garbling in some Slavic dialect. They moved to a booth behind me, and I was entertained throughout dinner by this pair of down-to-earth businessmen trying to sow up a deal with three Russians (or perhaps Ukrainians?) - only one of whom spoke English - to set up an agency in the Former Soviet Union (FSU). Good fun, especially the cursing and drinking.
My pinot noir showed up, a 2003 Domain Anlaud Roncevie from Burgundy. Again, a good nose, and plenty of time to enjoy it.
The main was wonderful, and restored my faith in bison. They'd taken large ribs from the buffalo and braised them for 8 hours. Good, solid, rich smells, and the flavours are nicely fat, with just enough crisp in the accompanying asparagus. The cab-bourdelais jus wraps around everything like a wet towel in a steam room (that's a good thing). Well grounded French bistro fare, highly satisfying. In contrast to the meal at the River Café, this succeeded in the elegant simplicity of what they did. Just enough ingredients to pull it all together.
If I had one criticism to make, it would be with regards to the service. The waiter was pleasant enough, but I was kept waiting at the entrance for several minutes before being seated, and another lady had the same fate. In a place like this they should be able to support a front of at least three (including the bar tender).
Wrapping up dinner I poked around the corner to check out the Hotel Arts. As mentioned, their room rates are quite reasonable, in the $130 range, and the layout is very chic. They are also home to the Raw Bar, which has an intriguing selection of marinated dishes and other seafood meals that piqued my interest (but I never had the time to get back there). Again, very nicely styled, and the sort of bar that will reel in a martini afficienado like a salmon on the hook.
Day 5 – Missing Meals
Still traumatized by lunch the day before, I ensured this time that I had in and out privileges on my parking, and took lunch away from the Grounds. I hit up Cannery Row for a change, craving bivalves. To this end I had a bucket of steamed clams and a grilled halibut. This went, respectively, with a Kokanee Gold and a Chenin Blanc from the Okanogan. The clams were good, but the halibut was just there (but still superior to what I'd had from Norway when in Singapore).
I was becoming convinced that everyone in Calgary was born with a heat sensitive trigger that made them smile when the weather went above freezing. They were all so aggressively cheerful that I wasn't certain if it was infectious or what. After two days the nice old lady in the Stampede Grounds parking lot was calling me by name as I went in and out (note to self: take of convention tag with name on it as soon as you leave convention).
And everyone looked so healthy. I appreciate that I was biased by my company's middle-aged sensibility, and the Goth-ness of London (check out the Big Book of British Smiles if you want to scare your children), but these people all looked, well…..well! It had A and E of our party dragging their tongues at times.
Dinner was a complete miss, I'm afraid. I know, it's shocking to hear such a thing from my lips, but we had a party with one of our vendors over at the Barley Mill (which I had slighted only a few paragraphs before). The weather was good, and I sat outside and had the opportunity to chat with a lot of people I hadn't seen in a long time. Plus, I was in the company of fellow (drunken) Canadian engineers and geoscientists. Drop a few free Hoegaardens, some IPA's, a Guiness or four, and whatever else I could order on me, set me next to a pleasant young Chinese geophysicist who has a boyfriend who can source wagyu beef, and the hours go by like collections of 60 minutes.
There were some canapés at one time or another. Bacon wrapped scallops, buffalo wings, the usual stuff. But, truth be told, I was remiss in my note-taking. I was more involved in discussions of favourite restaurants, good bars, and wines fondly missed.
Day 6 – Belgian Reprise
Waking up at 7:00 a.m. was not pleasant.
However, I did it, and put in a day's work - or rather eleven and a half hour's of work - interviewing people for positions with the Company. Lunch was taken in, dining on the fly between candidates. I had their calamari, which was far too salty, and their pizza, which was akin to an orgy of cheese, and far too much for me, myself, or I.
But a hard day's work does engender a healthy appetite.
That evening was the return to Belgo, but this time for dinner with our entire team. It put us off a little to begin, as the crowd at the bar was there for the hockey game, Edmonton vs some group of south-of-the-border pansies, if I recall correctly.
Sarah was very much a hit with the table, or perhaps it was her fishnets? No, she was quite charming, and very capable.
<![if !vml]>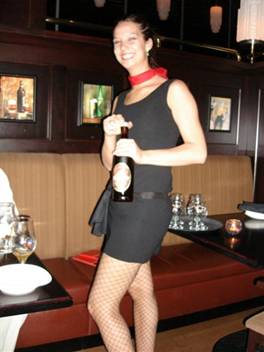 <![endif]>
Oh, lest I forget, E, prior to joining our august brotherhood, had worked as a male underwear model. This was an interesting ice breaker with many of the people we met, including Sarah, our waitress for the evening, Audrey being off.
Dinner was, as I'd expected, excellent. The hockey game ended – with the appropriate standing on the barstools and waving shirts about - before we'd even ordered our appetizers, so we could enjoy ourselves in relative peace. As a group we threw food out on the table and sniped happily at what was to be had. I ordered the charcouterie platter (some sausages, two pates, and some olives), some frites, and the moules mariniere. This, alongside of a Maudite, La Fin de la Monde, a Leffe blonde and loads of other good beers, made for a pleasant start. For the mains, after looking over the waitresses, I ordered the duck breast, but was informed that this was off the menu. With that sad news I fell back upon braised veal shank. It's hard to go wrong with braised meats.
Their chef, Shaun Desaulniers, had come from the Palisser, with a pedigree from the Fairmonts, Radissons, and Westin Hotel chains. Further, he'd been part of the Canadian 2005 champion team at the Glasgow culinary competitions. It shows well in his food.
We got a bottle of Delerium Tremens down E, which may not have been wise, as he was growing very attached to Sarah. And I indulged in another Pauwel Kwack. We were in quite a fine fettle by the time the cheque came around, and everyone had to go home before anything bad happened.
After all, it was a working day coming up.
(Next photo: the distinctive Pauwel Kwack glass and holder).
<![if !vml]>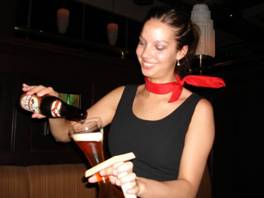 <![endif]>
So, as everyone else loaded into a cab, I decided, purely as a matter of professionalism, that I needed to check out Ceili's.
It was quiet, perhaps too quiet. It's got something of a biker chick hang-out look about it. The waitresses are in t-shirts, tattoos, and black. It also appears that Penny Lane's waitress-enhancement program has extended across the lane from Cowboys (this is of course, an urban legend with no hard truth to back it up at this time). Let's just say the staff look fairly buoyant.
I took the opportunity to work on my notes. I was struck at how the cigarettes, a rare treasure now, are kept under lock and key. A couple of girls try to work up the two truckers on the other side of the bar, but don't have much luck.
Day 7 - Dinner of a Thespian Nature (aka a return to Teatro)
I was back for my tasting menu, and I had the good fortune to have Gord's company, a friend of many of the Egyptian years. We sat out on the back patio of the restaurant, with beautiful weather and a wonderful vista of panhandlers and teen age heroine addicts (well, it is downtown, east side) and took in the near-perfect spring evening.
We began with martinis, gossip, talk of drilling fluids, pictures of the family, and a very patient wait staff. Gord went for a vodka martini, and I indulged in my last Hendrick's martini of the trip. The service, as mentioned, was very patient, and it was probably the better part of an hour before we got down to ordering, and then it was the tasting menu for the both of us.
The tasting menu:
An amuse bouche of a slightly marinated prawn with a Muscadet Sevre et Maine sure Lie, Domaine de la Pepiere 2003. This is something we're seeing more of, a partial ceviche and then a quick finishing cook. Edmund (our sommelier from the Day 2) was having fun looking for different wines to put up with the food, and the Muscadet made a good start.
Morel soup with parmesan asparagus salsa – paired with a Pike and Joyce Chardonnay, Adelaide Hills 2003. Very pleasant, earthy flavour, and the the asparagus gave a good contrast with the richness of the mushrooms.
Dungeness Crab Agnolotti with roasted red pepper puree, with Feudi di San Gregorio Falanghina 2004. The crab meat is shredded and full of flavour, and the past of the agnolotti was just right.
Ahi tuna tartare and rose apple carpaccio, wasabi aioli, with a Rosenblum Oakley Vineyard Zinfandel 2002 – an interesting choice for us but a good match of tastes.
Saffron Risotto and licorice with a Stefano Farina Barolo 2000. The Barolo was perhaps a better choice than the Chianti of the other night.
Alberta Prime BeefTenderloin with a foie gras ravioli, salsify and morel fricassee, with the Domaine Le Berangeraie Cuvee Maurin Cahors 2002. Gord had suggested an Argentinian Malbec of good quality, but the sommelier felt that this would be a good companion. The only issue with the wine was that it would have been best if we could've left it out to breathe for a long time before drinking. But, as it was, with a lot of vigourous agitation it was quite serviceable.
A selection of cheese – a camembert, a brie, a nice goat, and a parmesan, with walnut bread and set with a Henriques and Henriques Malmsey Madeira. You can always do a port, so why not try a Madeira.
And then there was a trio of deserts – almond ice cream, a white chocolate cake, and a small chocolate soufflé, enjoyed with domaine de la Pouderoux Maury, vin doux naturel (as evinced by the ladybug on the lable).
Oh, and some armagnac to finish upon. A cigar would have been nice for Gord, as he recalled fondly the humidor they used to have, but a city ordnance had stopped their service, as there was concern that under-age children might possibly inhale the fumes from a distance. At first, given the sparse population about us, this seemed unlikely, but then we think we saw one kid shooting up on the other side of the railing, and another hooking by the fountain. So, I can see that the authorities could be concerned for the danger to their health that cigars would pose.
And an early evening in preparation to flights East and my own kitchen.