August 2009 - Drink of the Month
Mountain Berry Spritzer
This drink comes from the store "T" on Broadway near Fir Street (www.tealeaves.com)
First, make the flavoured or steeped vodka. I will give you the recipe from "T" and then the recipe I used.
T Recipe:
Add 100 g of mountain berry tisane to a 750 ml bottle of vodka. Let steep for 48+ hours - the longer the sweeter the infusion. Strain the tea out using a strainer.
Dipsophilia Recipe:
I had 400 ml of vodka in a bottle, so decided to use that. I added 10 teaspoons of the mountain berry tea to the 400 ml vodka and let steep for 48 hours. The colour was phenomenal!
In fact, I would actually use less tea next time! It was very fruity, and good! But too much for a martini.
Spritzer:
Fill glass with ice. Add 1 ounce vodka. Top with soda water. Enjoy! I also tried a lime wedge which was a nice addition.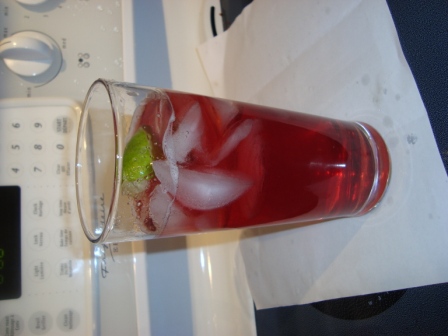 Martini:
1 ounce mountain berry vodka
splash dry vermouth
2 ounces cranberry juice
Shake, strain and serve in a martini glass. Not Dipsophilia tested. My Mountain Berry vodka was already very fruity and I didn't think adding cranberry juice would be necessary.
Enjoy!
Jackie